Ask Allison #105: Marketing When You're Full

When your phone starts ringing and ringing a lot 📱(we love to see it), two questions tend to come up almost immediately - how much do you continue to market now that you have a steady flow of referrals, and how do you manage that flow once your practice is full? Just like your practice has seasons, your marketing process will change as you get full and then again as you gradually graduate out clients. I also cover the importance of returning phone calls and emails because people who need help need to know if you're not available.

Need some help getting your practice where you want it? Check out my free training, Fill Your Practice!
Sponsored by TherapyNotes™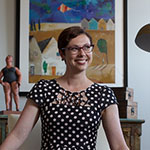 Allison Puryear is an LCSW with a nearly diagnosable obsession with business development. She has started practices in three different cities and wants you to know that building a private practice is shockingly doable when you have a plan and support. You can download a free private practice checklist to make sure you have your ducks in a row, get weekly private practice tips, check out my free training, and join the Abundance Party to gain the confidence and tools you need to succeed.