Online Therapy Now

[et_pb_image src="/wp-content/uploads/2020/03/0160-online-therapy-now-banner1.png" align="center" align_tablet="center" align_phone="" align_last_edited="on|desktop" admin_label="Banner" _builder_version="4.0.11" z_index_tablet="500" box_shadow_horizontal_tablet="0px" box_shadow_vertical_tablet="0px" box_shadow_blur_tablet="40px" box_shadow_spread_tablet="0px"]
In this week's episode, 'Online Therapy Now', we discuss,
Use HIPAA compliant platforms where you can
If you can, pay for the compliant platforms as free trials are getting closed out/overloaded.
Cost options are going to change
Be aware of BAA requirements and privacy policies
Have a back up plan
Resources:
Lisa's Webinar: Regulating Through the Coronavirus
Therapy Notes: Therapynotes.com promo code: Abundant
Person Centered Tech Getting Online Quickly
Tele-Play Therapy Resources and Support FB Group
Interventions for Online Therapy with Children and Youth
Looking for support right now?  DM me on IG or email ask@Abundancepracticebuilding.com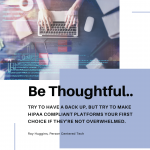 Roy Huggins, LPC NCC, is a counselor in private practice who also directs Person-Centered Tech. Roy worked as a professional Web developer for 7 years before changing paths, and makes it his mission to grow clinicians' understanding of the Internet and other electronic communications mediums for the future of our practices and our professions. Roy is an adjun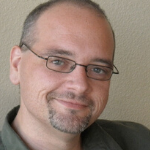 ct instructor at the Portland State University Counseling program where he teaches Ethics, and is a member of the Zur Institute advisory board. He has acted as a subject matter expert on HIPAA, security and clinical use of technology for Counseling licensure boards and both state and national mental health professional organizations. He has co-authored or authored 2 book chapters, and he routinely consults with mental health colleagues on ethical and practical issues surrounding tech in clinical practice. He served for 5 years on the board of the Oregon Mental Health Counselors Association and then the Oregon Counseling Association as the Technology Committee Chair.​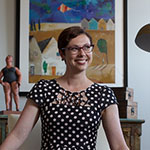 Allison Puryear is an LCSW with a nearly diagnosable obsession with business development. She has started practices in three different cities and wants you to know that building a private practice is shockingly doable when you have a plan and support. You can download a free private practice checklist to make sure you have your ducks in a row, get weekly private practice tips, and join the Abundance Party to gain the confidence and tools you need to succeed.