Episode #237: When to Hit Pause on Business Building with Cody Higgs

When we have to hit pause on our private practice building, how do you make space when you have life stuff going on, especially during the pandemic? Join me & total rockstar Inner Circle grad, Cody as we talk about how to take a pause when the big life stuff comes up, keeping your head as a therapist & a human, & making sure you take care of both of those sides of yourself. 
Pressing pause isn't always an easy thing for therapists to want to do, right? So if you're feeling crispy around the edges, join me & Cody for a fun & honest conversation. We'll talk about frame of mind, admitting you need a break, & how to take care of yourself without feeling like turning away a handful of new clients will reset your practice & make you start all over again.
Sponsored by:
Cody Higgs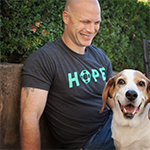 Cody Higgs is a Licensed Professional Counselor w/ Mental Health Service Provider designation located in Franklin, TN, just outside of Nashville. Before beginning private practice in January 2015, he worked in a school-based program with students age 5-21, ranging from inner-city Nashville to rural southern Middle Tennessee. Through the years, Cody has honed in on his niche of working with adolescents and young adults struggling with anxiety. He also offers Walk and Talk therapy as part of linking the benefits of physical activity and therapy. He spends his time outside the office training for ultra-endurance running, obstacle course racing, and spending time with family and friends. Cody is the dad of the cutest 3-year-old you'll ever see and the husband to an awesome industrial engineer who's taught him how to plan and organize – both of which are helpful for private practice.
Hi! I'm Allison Puryear (rhymes with "career"). If you've been within 10 feet of me, you may know that I'm as passionate about practice building as I am about helping my clients change their lives. However, you should know that I did not come into private practice easily. After nearly burning out at agencies, I built successful private practices in three different states & I realized I had a knack for helping other therapists do the same. I've done the work to figure out the logistics of building sustainable, full, & happy practices. I know I can help you do the same.