Copy Writing for Therapists

[et_pb_image src="/wp-content/uploads/2019/11/0141-copy-writing-therapists-banner.png" align="center" align_tablet="center" align_phone="" align_last_edited="on|desktop" _builder_version="3.26.6" z_index_tablet="500" box_shadow_horizontal_tablet="0px" box_shadow_vertical_tablet="0px" box_shadow_blur_tablet="40px" box_shadow_spread_tablet="0px"]
In this week's episode, 'Copy Writing for Therapists', we discuss, 
The language your ideal clients really use.

You're not writing a resume.

Be okay with a bad draft, it's just a draft.
Links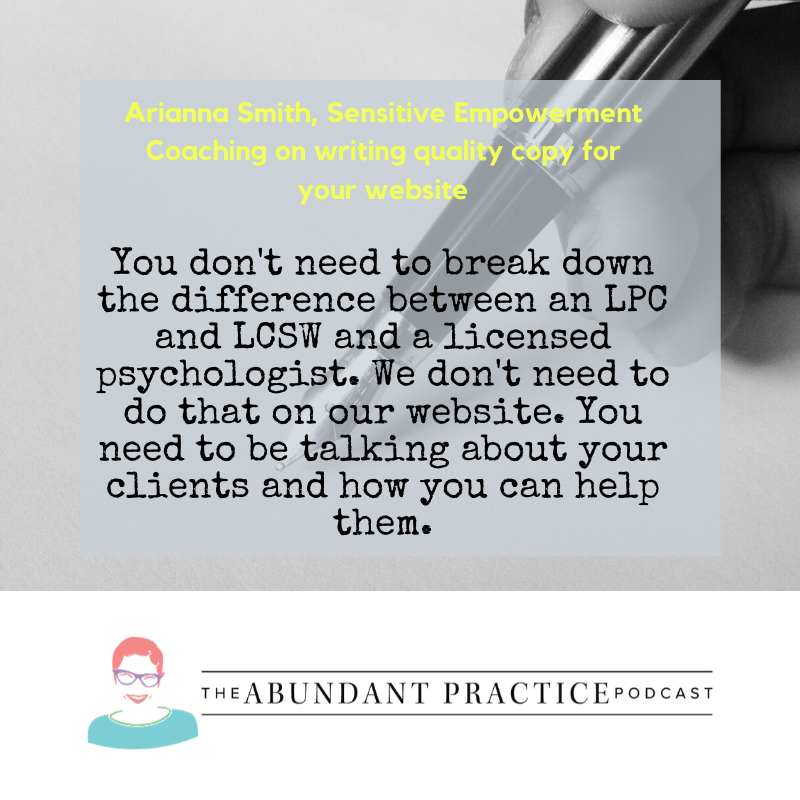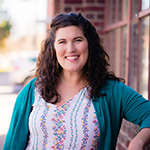 Arianna Smith (she/her) is a Copywriting Coach who loves teaching therapists how to niche down, loosen up, and write from the heart, so they can have a practice filled with dream clients.
Ari created The CoWriting Program, a 1:1 coaching program that blends content strategy, get-er-done writing time, and behind-the-scenes editorial magic.  She's a guide, cheerleader, and clarity-finder as she and her clients co-create copy that is compelling and infused with personality.  
Ari's love of writing bloomed while growing up amidst the endless winters and wildlife of rural Alaska (She's fairly certain there's a floppy disk of her teenage angst-filled stories floating around a thrift store in Wasilla). Visit Ari's website where she provides free tips, guidance, and resources to help you unleash your unique voice.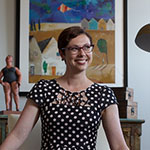 Allison Puryear is an LCSW with a nearly diagnosable obsession with business development. She has started practices in three different cities and wants you to know that building a private practice is shockingly doable when you have a plan and support. You can download a free private practice checklist to make sure you have your ducks in a row, get weekly private practice tips, and join the Abundance Party to gain the confidence and tools you need to succeed.