COVID-19 and Your Practice

UPDATED: COVID-19 and Your Private Practice
Scripts:
Online Option:
"With COVID-19's presence in our city, we request that if you are having flu-like symptoms such as fever, cough, or shortness of breath, have traveled to a high-risk area for transmission of COVID-19 in the last 14 days, or if you have been in close contact with someone confirmed positive or currently being evaluated for COVID-19 you do not come to the office for therapy.
Online sessions (using a Skype-like platform, but HIPAA compliant and secure) are available if this applies to you or if you'd prefer accessing therapy from a private location ilke your home. Please let us know ASAP if you prefer this for any sessions.
We're committed to continuing care and helping you reach your therapy goals. At this time we do not find it necessary to work exclusively online. We offer this to you for your comfort. If we do find it necessary in the future, we will let you know.
Keep washing your hands,
[practice name]"
Online Only:
"In the interest of protecting some of the medically fragile clients in our practice and in our community, we are now shifting to online therapy in lieu of in-person appointments.
Our video conferencing software is secure and HIPAA-compliant. The email address we have on file will receive a link prior to your scheduled appointment. If you plan to use a smartphone, you will be prompted to download an app first.
Please make sure you are in a private location that allows you to have the same level of concentration and openness you show in our in-person sessions. We're committed to continuing care and helping you reach your therapy goals.
Let us know if you have any questions.
Sincerely,"
Resources:
Roy Huggins Person Centered Tech Telehealth Training
For solo practices here's the link: https://personcenteredtech.com/tmh/
For Group practices, here's the link: https://personcenteredtech.com/group-t…/
In response to this pandemic they're greatly discounted until the end of the month.
The FB Live he did about making a quick transition: https://www.facebook.com/personcenteredtech/videos/3451523878196102/
Join Amber Lyda's Online Therapists Group on FB https://www.facebook.com/groups/138663903332494/?fref=nf
Online options
Doxy.me
Zoom.us—healthcare option ·
ReGroup--based on the Zoom platform
TheraNest--telehealth option (w/ account)
Simple Practice--telehealth (option w/ account)
HIPAA Compliant G Suite then hangouts are legit.
Not Skype, not facetime
Telephone options:
Landline
iPlum app (HIPAA compliant)
Spruce
phone.com com app (HIPAA compliant)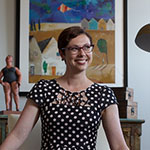 Allison Puryear is an LCSW with a nearly diagnosable obsession with business development. She has started practices in three different cities and wants you to know that building a private practice is shockingly doable when you have a plan and support. You can download a free private practice checklist to make sure you have your ducks in a row, get weekly private practice tips, and join the Abundance Party to gain the confidence and tools you need to succeed.