Episode #239: Buying a Building with Noreen Iqbal

Buying a property for your practice? What would that process look like for you, your practice, & your business? Noreen Iqbal joins me on today's podcast to discuss the pros & cons of buying a building. From the financial perspective of rent vs. mortgage, taxes, maintenance fees, & making choices that are cash-flow positive, we talk about it all. Noreen shares her insights on finding the right realtor who knows business is business & how to crunch the numbers. Buying a building also means creating a home for your practice & a space that's yours.
Noreen Iqba, LCSWl is a mutli location group practice owner and real estate investor in New Jersey. Noreen founded Theraproperty, a real estate consultation business created specifically to help therapists, counselors and other mental health professionals buy real estate for their offices and invest in their futures.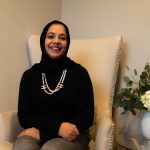 Hi! I'm Allison Puryear (rhymes with "career"). If you've been within 10 feet of me, you may know that I'm as passionate about practice building as I am about helping my clients change their lives. However, you should know that I did not come into private practice easily. After nearly burning out at agencies, I built successful private practices in three different states & I realized I had a knack for helping other therapists do the same. I've done the work to figure out the logistics of building sustainable, full, & happy practices. I know I can help you do the same.